Let's look at some of the most recent news and reports on mergers and acquisitions (M&A) and try to make sense of what they mean for business owners who may be looking to sell over the next year.
The Situation
Sellers have been riding high for several years, hitting the peak number of transactions in 2018, as evidenced by recent data released from BizBuySell. Small business sales still remain at historically high levels, but 2019 transactions took a 5% dip from record-setting 2018 levels. (BizBuySell's Annual Insight Report)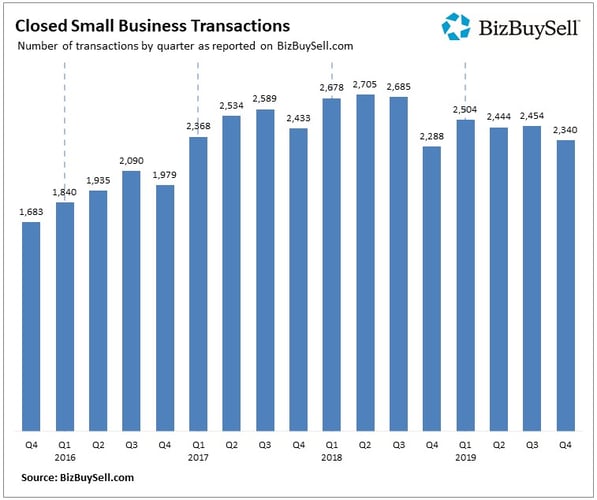 All signs point to 2020 being another strong year for M&A transactions: "While 2020 is not without questions, we still expect this level of activity to continue, in part due to the ongoing supply created by retiring Baby Boomers," according to BizBuySell. Their recent survey of business brokers showed that 75% of brokers expect more Baby Boomers to sell their business in 2020 than did in 2019.
While the supply of businesses for sale may increase, it doesn't necessarily mean more M&A deals will happen. And there are some signs on the horizon that the M&A market may be slowing down. Deloitte's State of the deal: M&A trends 2020 reveals "some moderation in transaction activity expectations, with 63% of respondents saying transaction activity will increase somewhat or significantly, down from 79% a year earlier. More muted enthusiasm seems natural at this stage in the M&A cycle, following seven years of heady growth and record-setting activity."
And of course, there are looming political and economic questions hinting at a decrease in business valuations:
The IBBA and M&A Source Market Pulse, Survey Report Q3 2019 reports that while there are no real signs of recession yet, enough people are talking about it and predicting it that it's already driving down business valuations, according to 53% of business brokers surveyed in October.
Buyers are becoming more selective when it comes to acquisition targets:
"We're fairly long into this M&A boom cycle, so it's not surprising to see a drop in expectations for larger deals. What we're seeing in the marketplace is more interest in deals in the sweet spot between $100 million and $500 million. Deals aren't going away; companies are just being a little more careful about those larger deals." ~ Russell Thomson, national managing partner, M&A Services, Deloitte (Deloitte's State of the deal: M&A trends 2020)
Key Takeaways
The M&A market is forecast to remain strong and steady in 2020, but with perhaps a slow shift from a seller's market to a buyer's market.
The increase in Baby Boomer owners who are ready to retire will increase available inventory and seller competition.
Uncertainty is creeping in over tariffs, wage increases, and the upcoming presidential election/politics – impacting potential acquirers' priorities.
The Bottom Line
While there are definitely a lot of unknowns for what will happen in M&A activity, for those business owners who are looking to sell this year, the outlook is still pretty positive. But with more uncertainty than we've seen in a long time, it is now time for Baby Boomer business owners to take notice of the market shifts, get their businesses in shape, and plan for their business exits. Increased inventory and competition and the shifting priorities of potential acquirers due to economic and political concerns will have a bearing on whether or not they can sell in the near future.
Unfortunately, we can't just sell when we want to. There are myriad external factors that impact the bottom line and the timing of sale that we have no control over. However, we do have control over numerous internal factors and the ability to plan for most potential scenarios and contingencies.
If you are thinking about exiting your business in the near future, you need to start planning now or risk missing your window of opportunity! Now is the perfect time to prepare for your future, develop your Business Ownership Transition Plan, and take advantage of current strong market conditions to extract as much value as possible from the business you've worked so hard to build!
Related Stories
Do you have 2020 vision for your business exit?
Watch BTA's Jane Johnson on the Erin Strayer Show discussing: "How business owners prepare to sell their companies"
How to Plan for Life After Your Business
Exit Planning News from the Industry
7 of the Worst Times to Sell Your Business
Why is TRANSITION Such a Dirty Word?
Passing It On: Navigating the Complexities of Succession