Business transitions are emotional events even for those aren't emotional
We all have an idea of what retirement is supposed to look like: Golf games, travel, spending lots of time with family, NO STRESS... How about painful? Probably not the first thing that comes to mind, but for many business owners, it can be a difficult—and oftentimes painful—experience.
Have you considered what your life will look like after you sell your business?
Chances are, you haven't, if you're like most business owners. You've probably invested many years of your life and a large portion of your financial resources in your business, taking precious little time off to focus on yourself outside of the business.
You're probably not used to thinking about yourself independently from the business. Even if you're getting close to selling your business – you're still putting yourself last, focusing mainly on the financial aspects of the transaction.
While it may be difficult to see right now, the non-financial aspects and emotional preparation are an essential part of the exit planning process. In fact, the first step in our 6-step Business Transition Planning Process is "Develop Your Vision and Personal Goals" (i.e., get yourself prepared).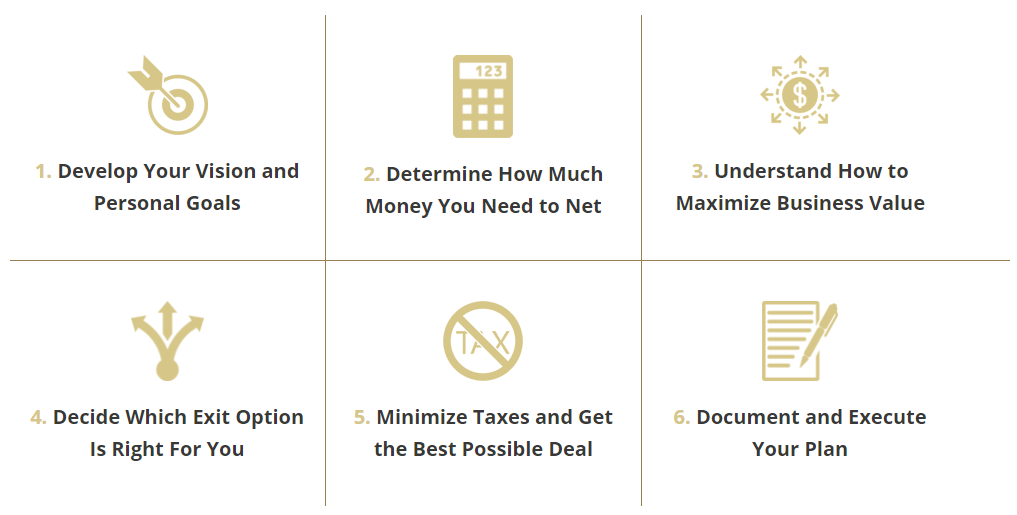 Business transitions are emotional events, even for those who are not usually emotional.
Planning for your exit from your business can help provide you with the time and space you may need to envision yourself without your business. It can help ensure that you have a life beyond the company and improve your chances for a positive outcome.
Take That First Step
Don't let the fear of the unknown hold you back from living life beyond your business. It's time to reap the rewards of all your years of hard work!
Take your first step and join our FREE Membership to gain access to our What's Next Assessment, which will help you determine your personal goals and ideal vision for the sale or transfer of your business to others.
In addition, our courses and tools will help you:
Develop a timeline that meets your needs.
Craft your ideal life and perfect calendar.
Identify transition-related fears and concerns.
Overcome barriers that may be hindering your progress.
It's Time to Reap Your Reward
Join BTA's FREE membership to gain access to our Transition Readiness Assessment which will help you determine how ready you are to exit or transfer the ownership of your business to others. You will also receive a FREE Introductory Course and an electronic version of our book Cashing Out of Your Business – Your Last Great Deal.