As an owner who may want to sell your business, this probably isn't even a question that has crossed your mind. Most owners we work with are thinking about the selling price of their business – not how much it is going to cost them.
The costs will vary depending on the type of transaction you pursue, internal transfer or external sale. It's critical that you estimate what the costs will be so you can understand what your net sale proceeds will be – what you will get when the sale is done.
Otherwise, you may be disappointed with the amount you receive for all the years of money, hard work, and commitment you invested in your business. Crunching these numbers in advance will give you the opportunity to increase business value, make other business enhancements or key personnel changes, and start tax planning to ensure that you get what you need from the sale of your business (your Wealth Gap.)
Potential Selling Costs
When considering their options, owners assume that the higher the sales price from an external sale, the more they will net – but that might not necessarily be the case – without proper planning, 30% to 60% of the sale proceeds could be consumed by taxes and fees.
Seller's costs typically include:
Business Broker/Investment Banker Fees
Legal and Accounting Fees
Federal and State Taxes
Other hidden costs could include:
Prepayment Penalties on Bank Debt
Real Estate Transfer Taxes
Severance or Retention Payments to Employees
When you understand your tax obligations and related fees in advance of the sale, you will be better prepared to evaluate offers to see if your Wealth Gap will be met.
Steps You Can Take to Get Prepared from a Financial Perspective
Assess Your Personal Financial Readiness: Exiting owners are often surprised to learn that the proceeds from the sale of their businesses may not be adequate to support their financial needs after the sale. The most significant figure owners need to determine is their Wealth Gap or how much they need from the sale, after taxes and fees. In order to do this, you'll need to analyze your current net worth, determine your financial income needs post-transition, and make some assumptions related to life expectancy, rates of return and taxes.
Determine the Value of Your Business: We find that owners frequently don't know what their businesses are worth if they were to try to sell. It is important for owners to get a baseline range of values, before they transition, to see if the after-tax value will be high enough to meet their financial goals or Wealth Gap. It will also help you determine just how much you'll need to grow the business in order to exit.
This exercise will be eye-opening. It can help you uncover items that need to be addressed before an internal or external buyer's scrutiny (due diligence) begins, and it can provide you with the opportunity to shore up any weaknesses and maximize value.
Invest in Business Improvements: There are many drivers of business value beyond profits, including strong management, market share, reputation, quality products and services, and processes and procedures. These are just a few of the things that buyers will review when they consider whether to buy your business and how much they are willing to pay.
Consider Your Exit Strategy Options: Will you transfer your business internally to family members, employees, or key managers, or will you look to sell externally to an outside buyer? You'll need time to understand the pro and cons and determine how much money you will net from each transfer option. And you need to carefully assess the non-financial ramifications of each exit strategy and see how they match up with your personal goals. The decisions you make will have an impact on your legacy, your family, your employees and ultimately, your own future and retirement.
Start Your Exit Planning Now: While this is by no means a comprehensive list of everything you'll need to consider as you start your exit planning process, it's a good place to start. If you are thinking about exiting your business, now is the perfect time to prepare for your future and develop your exit plan. Proactive owners will maximize business value and minimize their selling costs.
Take advantage of the current strong market for business sales and your opportunity to extract as much value as possible from the business you've worked so hard to build!
---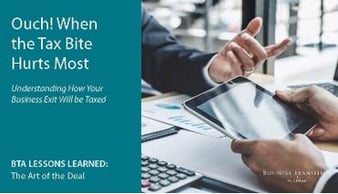 Join the hundreds of business owners who have successfully exited their businesses by following our proven six-step exit planning process. Join our Free Membership to access all the resources and tools you need to get started.
Get our free exit planning course, e-books, Business Owner Readiness Assessment, Lessons Learned, and Success Stories that will teach you how to get yourself prepared, minimize taxes, maximize business value, protect your wealth, and much more!