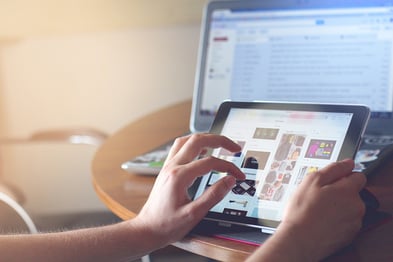 It's often been said that perception is reality. This is especially true when you're selling a business – first impressions really matter. And these days, where do most people form their first impressions about a business? From the web – they do a Google search or maybe will go directly to your company's URL. Investors thinking about investing in or acquiring a business are no different than anyone else and often their first impression comes from your website, which is why it's critical for businesses to make sure that their website provides a positive first impression.
Getting Your Business 'House' In Order
Selling a business and selling a house are similar in a lot of ways -- and most people would never let people tour their home without making some cosmetic changes before offering it for sale. It's the same for your business. You will want to get it in the best possible shape to achieve the highest sale price and eliminate issues that will allow the buyer to negotiate the price downwards.
Even if you aren't thinking about selling right away, it's never a bad idea to clean up your business's appearance. Fix the sign, replace the carpet, paint the place – make it look good. This is also true for your business website. Web design is quickly evolving and you want to make sure that you're providing the best experience for your website visitors – whether it's potential customers, current customers, or potential investors. It's just good for business, and you never know when you might be approached by a buyer. Anything that increases sales also increases profits and the all-important cash flow.
Get Your Website in Shape Before Thinking About Selling Your Business
Although your website is intangible, it can add to the value of your business just like customer lists, proprietary products and/or techniques, secret recipes, customized software programs, and good employees can. Let's look at a few key elements that can help you increase your chance of making a good first impression with your website.
Use Minimalistic, User-friendly Design – Because audiences today are impatient and expect an easily accessible experience when searching the web, it's critical to have a site that is user-friendly and provides a visually pleasing experience. Long sections of text are a thing of the past. A modern design should include an effective use of space that's not cluttered, easily readable fonts, and high-resolution, enticing images. You only have a few seconds to grab a user's attention, you need to make it worth their time.
Employ Responsive Design -- It's important to make sure the images are responsive, so that they'll change in size depending on the user's resolution and screen size, which give users the same experience no matter how they're accessing the site. More people are now accessing the web via their mobile devices than from their desktop, so you need to have a site that is both mobile friendly and desktop friendly or they might go elsewhere.
Utilize Images -- It's becoming the norm to use large, high-resolution images to help tell the story of your brand. They're often set as the backdrop of the site with a small amount of text over it. It's been proven time and time again that people like to look at images. Take advantage of this to tell your story.
Employ Calls to Action and Offers -- Calls to action include contact info, buy now, download now, or request a quote. Your website should clearly guide potential customers to the next step to find more information and to buy your product or service.
Keep it Fresh and Updated– Too often, businesses engage in a large website overhaul, spending a lot of time and money on it, only to let it sit there stagnating. Today, your potential customers are expecting to find the information they need, when they need it. If they can't find it, they'll move on. Make sure that all of your company information is up to date, including things such as management team bios, case studies, and key milestones.
If you haven't added new videos or blog posts for a number of years, get it updated and provide updates regularly. Providing useful, valuable information (not just advertisements for your products or services) is a great way to keep people engaged and on the site. Regular updates will also increase your search engine optimization (SEO) as the search engines' algorithms, especially Google, rank fresh, well-written content higher in search.
While this is by no means and exhaustive list for getting your website in shape, it can serve to set you on the right path. Your website is a good place to start, but note that there are many drivers of business value, including profits, strong management, market share, reputation, quality products and services, and documented processes and procedures – to name just a few. Now is the perfect time to get everything in order. Give your business a fresh coat of paint – both literally and figuratively -- to put it in the best light for potential buyers. Sellers pay top dollar for high quality. You only have one chance to make a good first impression, so don't waste it!